About the artist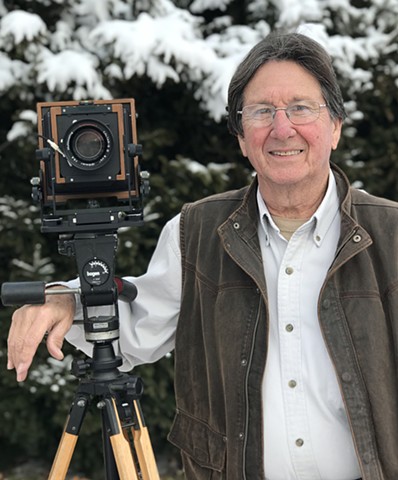 Tim Schroll was born in Beardstown, Illinois. His father was the local photographer whose studio and darkroom were in the house where he and his five siblings grew up. His life was always surrounded by the world of photography. He acquired his first camera while serving in the US Navy in 1972. Tim's passion for chasing light started then and continues to this day. In 1978, Tim started photographing in large format black and white and found that this medium best conveys his personal interpretation of the world. To try to describe his style is difficult. It is a blend of landscape, nature, and objects in isolation. Jerry Hovanec of the Smithsonian American Art Museum, Renwick Gallery states that:
"Tim's photographs are vibrant, austere, and compelling, Tim's economy of design and composition has changed how I see what I see. He has distilled complexity into essential simplicity…..A visual Haiku in black and white. My mind's eye is forever changed."
Tim is a self-taught photographer. His love of light and the traditional darkroom process has led to the sharing of his images in galleries and art shows since 1988. His silver gelatin prints appear in both public and private collections regionally, nationally, and internationally. His work has been selected as "Best in Show", "Best Photography", "Award of Excellence in Art", and Purchase Awards in regional juried arts shows for the last 25+ years. His photographs are part of permanent art collections at Western Illinois University and Carl Sandburg College.
After living in various locations around the Nation and State, Tim and his wife Marilyn now live in the small (Pop. 800) rural town of Blandinsville, Illinois. He continues to work with film and the traditional wet process style of photography. All of his prints are produced in his darkroom and prepared for display personally.